Day #1 of our Road Trip was conveniently June 1, 2019, with the goal of camping at Gladstone Provincial Park in Canada but I couldn't find it without Google directions as my phone was on airplane mode to save money. Settled for a spot in an RV campground on Christina Lake. Back on Route 3 East toward Crowsnest Pass in the early morning, it turned into a beautiful day on a gorgeous mountain road. Coming down from the pass we entered the prairies of Alberta and had no trouble finding Park Lake Provincial Park.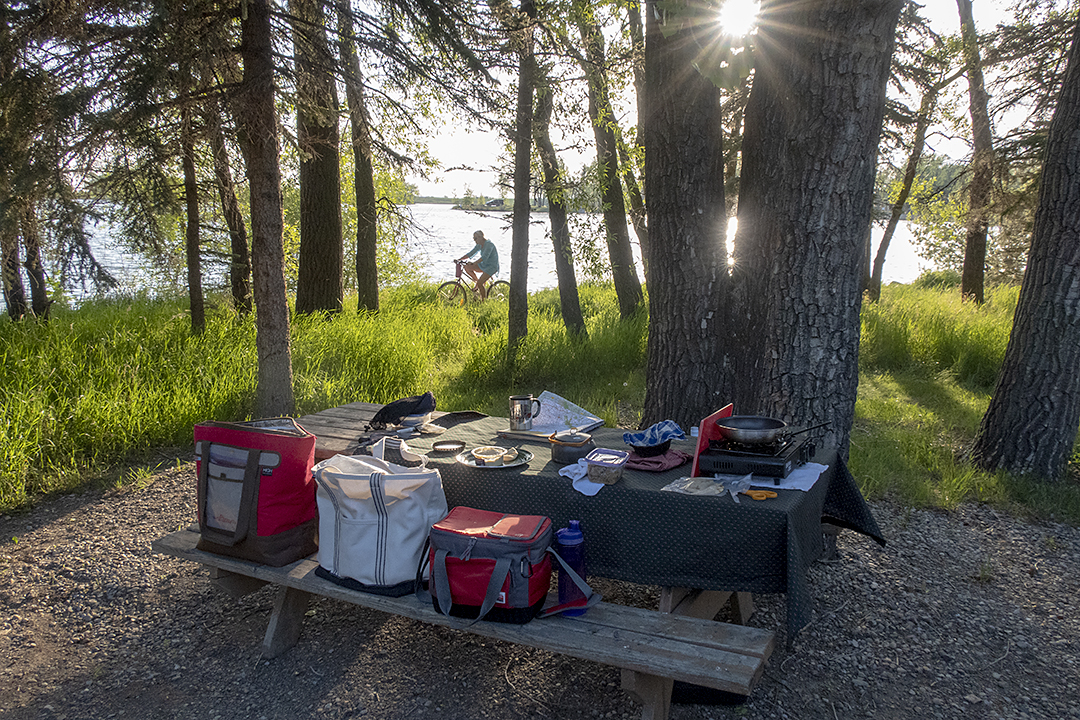 Header and image above: Day Two found us camping on the shores of Park Lake in Site #56 of the Park Lake Campground, a lake made for irrigation.

Day #3 took us to the Buffalo Pound Provincial Park near the town of Moose Jaw, SK. I walked from our campsite to the beach which turned into quite a journey, it's a very large park on a very long lake. The plan for the next night was to camp near Winnipeg but never found the sign to the provincial park so kept on driving with a huge orange sun following us in the rearview mirror; while we followed our shadow growing longer and longer, until it disappeared and we were back in the United States in the border town of Warroad, Minnesota. I spent $54 on a room in the Super 8 Motel — my first of the trip.
. . .
GO SARA at the Sunrise Cemetery in Duluth.
Began Day #5 doing laundry and having GO SARA washed by a computer. We pulled into the Sunrise Cemetery in Duluth around 4p. It was a cold, windy day looking for the grave marker of my great-grandfather, William Smith-Warner Blake. Back in the office to look again at the large map when the director, Bart Porter, came up the idea for finding the name at the head of the row, which he found, gave it to me and it worked. However, the only marker found in the plot was for a "Mae M. Blake," none for WSWB, who was laid to rest in 1934. Records do not show if a marker was installed or not. That aside, the unexpected discovery of a grave marker for a "Blake" we had never heard of called for genealogical research back home.
Who is Mae M. Blake?
Blake Family in Duluth, circa 1922: Names of the first four people from the left are unknown, the fifth is Howard, Carl, Priscilla, WSWB; in the front row is Sadie (married to Howard, our father's parents), then Mae, Doris (her daughter?) and finally our father, looking smart.
It seems our father didn't know the name of his grandfather's second wife as he listed her on the back of this photograph as "WSWB wife."
First found, was a marriage record between WSWB and "Edith L. Maeby" on November 14, 1895, in St. Paul, MN. Then a 1900 Census showing Edith Blake, age 26, living with WSWB, age 38, and two children, not hers, Paul and Howard!
Finally, a record for, Alice (Rood) Blake, the name we knew from our father's account, listing her birth as 1862 and her death on October 24, 1893, age 31, in Minneapolis from illness. Alice was the mother of Paul and Howard born a year apart in 1888/89.
The mystery of the unexpected grave marker was solved, except now to learn the names of children fathered with his second wife nicknamed "Mae" and listed as "(Mother)" on the stone.
Right: Recently discovered photo in our father's album.
. . .
Next: 2. Duluth to Quebec City