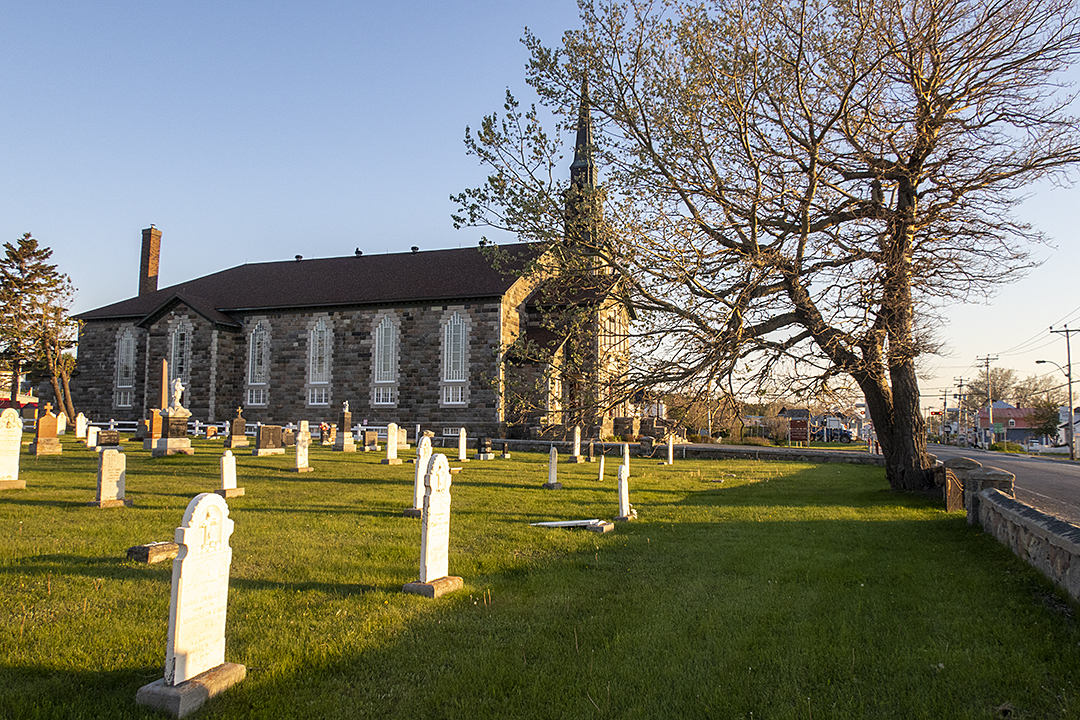 Header image: Sunset shot of Ste. Flavie from the breakwater.
Above: This is the third church built at Ste. Flavie. The first one was built when the parish was founded in 1829, and a second church built in 1878 was destroyed by fire 70 years later.
We arrived in Ste. Flavie around 4:30p. on Monday, June 10th, our tenth day of driving from Snohomish. We were welcomed with bright sunshine and impressive cold gusts of onshore wind — much too windy to camp — good! Took a small room in the riverfront Hotel Gaspesiana, so charming, we worked a deal for three nights — a vacation from driving!
Called a number for the church President listed on the office door and a woman answered, Monique, as I came to learn, who struggled with English but came to understand that I wanted to photograph the baptismal record of my grandmother, and she said someone will be in the office tomorrow at 1:30p. Monique, the president's wife, was leaving town in the morning but promised to find someone who spoke some English.
Francine, the church secretary we assumed, was alone in the office and while she was briefed to my showing up, Francine spoke no English, just French, as if I understood every word. I had written down Anne Marie Charette's name and dates, plus her parents' name in my journal to show her. Watching Francine copy a list of names on her laptop and send them to the printer, I left with a list of names of my relatives buried in the cemetery and understand now, Francine's disappointment was because my grandmother was not buried in the church cemetery.
Falling under the long shadow of a tree the stone marker for Anne Marie's parents: Zephrine Charette (1841-1900) and Sophia Larrivee (1845-1929) who were married in Ste. Flavie on July 31, 1866, and had six children.
Back at the hotel, I looked closely at the heading of the printout and recognized the word "cemetery." It's sad, with two years of college French, I needed help making myself understood and asked the Front Desk Manager, Dianne, what to do … she wrote a note below the list of names, explaining what I wanted and closing with her phone number.
Fortunately, Francine was still in the office when I returned with Dianne's note which was understood immediately as Francine checked a directory on her laptop, opened the safe and removed a large ledger and in no time found Anne Marie's baptismal entry.

Baptismal entry reads: "On March twenty-third, eighteen eighty-four, We, Parish Priest of Charette, the undersigned, have baptized Marie Anne Emérentienne, girl, born two days ago, of the legitimate marriage of Zéphirin Charette, Farmer, and of Sophie Larrivée, from this Parish. The Godfather was Samuel Roy, Farmer. The Godmother, Henriette Marquis, his wife, who was the only one able to sign with Us. The father and the godfather both present, declared not knowing how to sign. Reading done." (Translation by Cathy Dugar)
Francine took off her red-framed eyeglasses for the photo, with them on she had an uncanny similarity to my sister.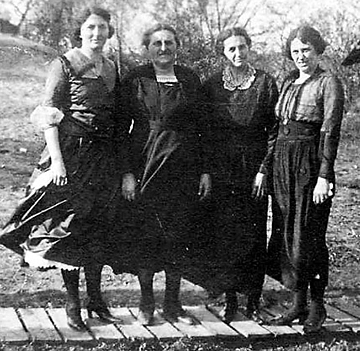 Sara and our mother Maxine visited Quebec in November 1987, when they searched for Anne Marie's baptismal record in the small town of La Malbaie — they did not have the advantage of the internet and the popularity of genealogical research, especially Family Search — where I found this picture of Anne Marie and her sisters: (From the left) Bernadette (1883-1953), Ernestine (1867-1938), Marie Elise (1870-1954), and Anne Marie (1883-1929). All four sisters migrated to Minneapolis around 1895, the estimated date of this picture.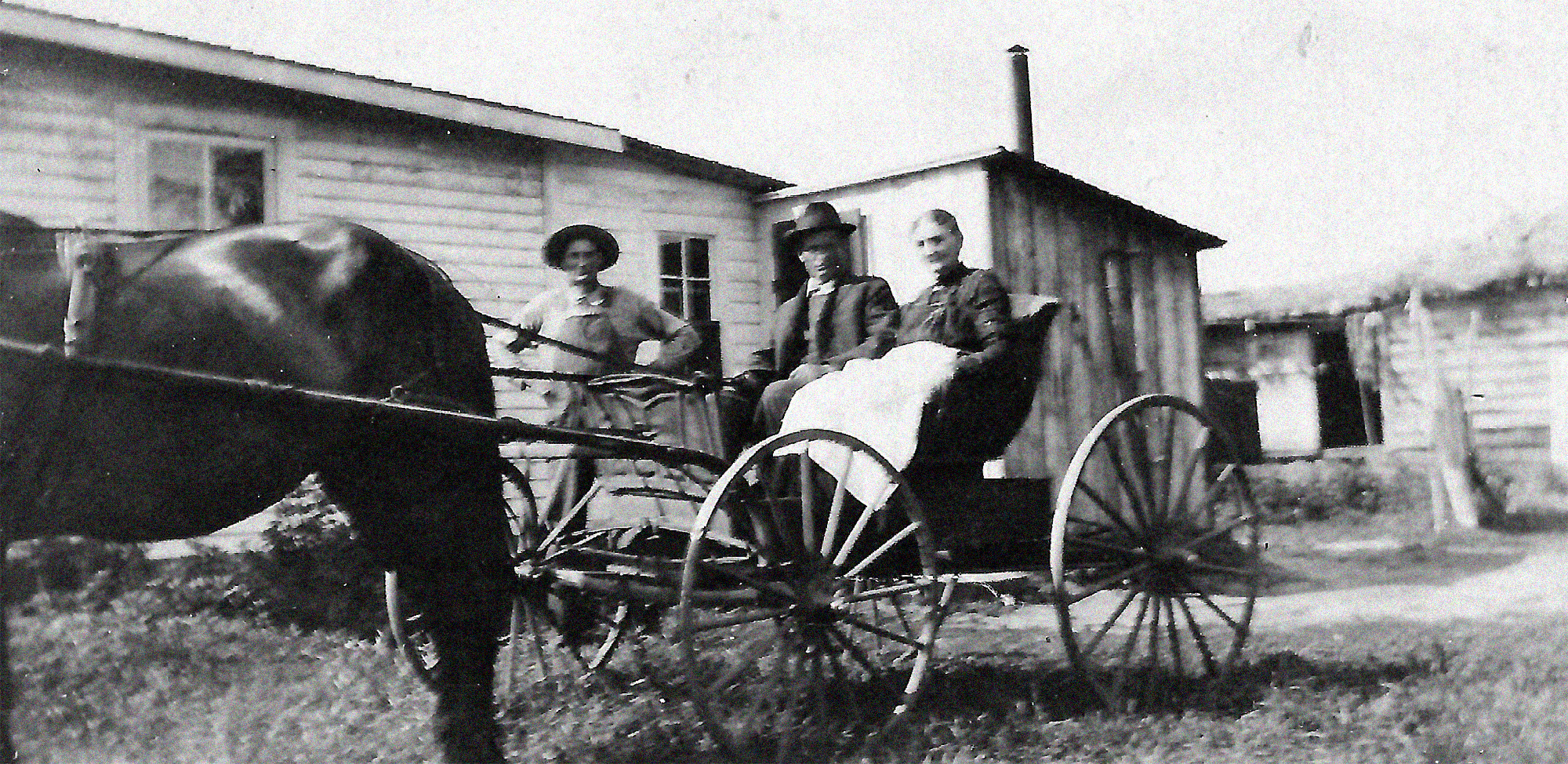 A blury, undated photo of parents Sophie and Zephrine in the cart with brother Oscar standing — left behind in Ste. Flavie!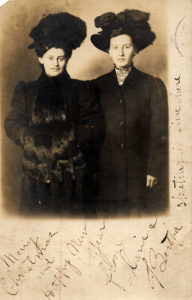 Photo postcard of Anne Marie and Bertha sent from Minneapolis, December 1907, to brother Baptist living in Ste. Flavie. Who is Bertha?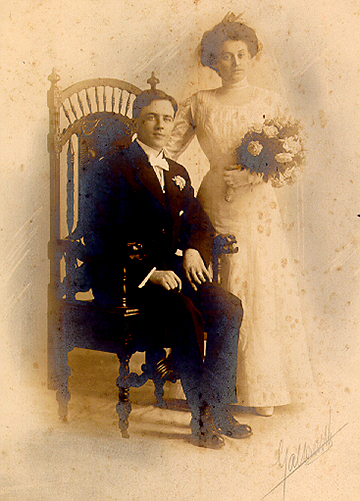 Raymond Sarazin (1887-1963) and Anne Marie Charette were married on September 2, 1910, in Minneapolis and had five children, our mother Maxine was the fourth, born in 1917. A family story passed on down was that Anne Marie returned to Ste. Flavie wanting to leave her husband, Ray, who we assume was a drinker then as he was when died … but Sophie sent her daughter back to Minneapolis to keep her vows of marriage.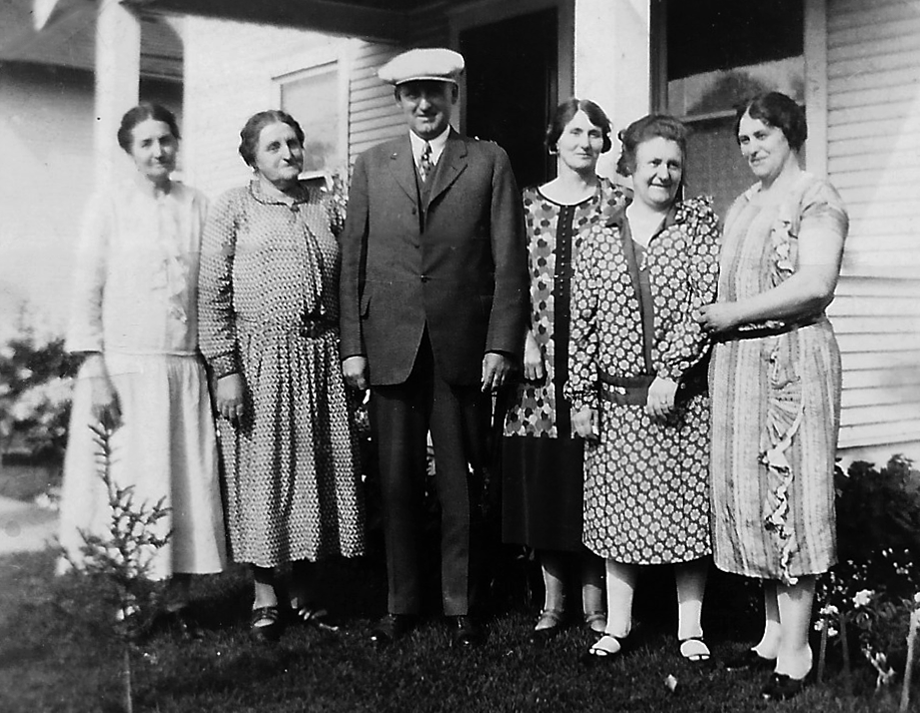 Photo from our mother's album noted on the reverse: "1928, Ouellette's Uncle Phil's visit," who is pictured center. The sisters with their married names from the left: Marie Elise Beaulieu, Ernestine Ouellette (who hosted the gathering), Bernadette Gagnon (Aunt Bernie), Clementine DuBeau (who immigrated later), and our grandmother, Anne Marie Sarazin, who died the following year. Maxine was 12 years old and went to live with Aunt Bernie and Uncle Eddy Gagnon who had a small store in Minneapolis. Aunt Bernie came to live with us at the end of her life, Uncle Eddy had passed I suppose, but remember our French Canadian great aunt at the stove making us crepes with cream and syrup.

Dashcam clip arriving in Ste. Flavie, music by the St. Helens String Quartet.
. . .
Next: Visiting Bradley, Maine